Kesair Dimensioning Software
Kesair-dimensioning software helps you to design just the right AHU for your project. In addition, You can now examine, how different factors will affect the dimensioning. This will save you precious time and money, because you'll get just the blueprints you need for the combilations, along with the full dimensioning documents with given target values.
Welcome to try our new dimentioning software
Load the software free of charge from the link below and register as a user.
1. Click the link and follow given instuctions to download the software. Service requirements are Windows10 operating system and minimum of 1366×768 resolution screen. We cannot quarantee, that Kesair dimentioning programme will run faultlesly with other operating systems.
2. Open the programme. Register yourself as a user by clicking the Login.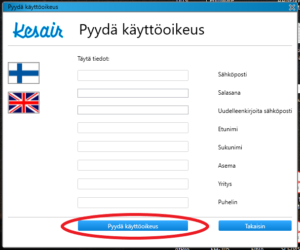 3. Fill in the required information and ask for access: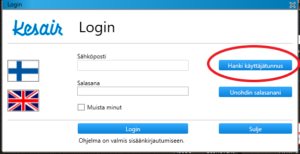 4. Confirmation link will come to the e-mail you have given. https://kesair.azurewebsites.net/Guid/bf54… Click the link OR copy it and add to your web browser's address field. You have now been registered. Return to login and sign in.
Enjoy!
If you have any problems signing in, don't hesitate to contact Kaisa
+358 50 366 1185 or kaisa@kesair.fi
Links
Frequently Asked Questions
Q: Does downloading and using this programme cost me?
A: No. You may download and use the programme for free.
Q: I clicked the download link and filled in the registration info, but I didn't recieve confirmation link / The confirmation link do not work. What do I do?
A: For some reason the confirmation link doesn't always come to the applicant. We are trying to work it out, though. In this case, try using the user ID and password You gave earlier to log in. If this doesn't work, get in contact with our customer support Kaisa +358-50-3661185 or kaisa@kesair.fi.
Q: Could I get some hands-on quidance, how to use the dimentioning software?
A: Yes. Contact kaisa@kesair.fi, and we will arrange a Teams-meeting in a suitable time for you, to go through the software.