Supply- and exhaust-air ventilation units
Air in or air out, Kesair will provide you with correctly dimensioned supply- and exhaust-air devices.
.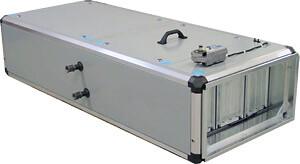 Select a supply-air unit, an exhaust-air unit, or both from our top-quality Kesair devices.
Device properties include
50-mm thermal insulation
the possibility of heat recovery using water- or glycol-circulation heat-recovery heaters, rotary systems, or cross-flow heat exchangers
optionally, heating using a water-circulation or electric panel heater
the option of cooling that uses a water-circulation radiator or direct-evaporative cooler
the possibility of dividing the units into several parts
the possibility of choosing various delivery contents for electrical control equipment
The best and easiest way to select a suitable Kesair supply- or exhaust-air unit is to use the Kesair-mitoitusohjelmaa.
The design software will assist you in deciding on an appropriate, properly dimensioned ventilation device and in determining its automatics, along with adjustment charts and functional descriptions.
The Kesair design software is Web-based, so you always have access to the latest version and there is no need to download software to your computer.
READ MORE
Contact us to request more information